VLADIMIR PUTIN MET IN KAZAN WITH KAMAZ-MASTER TEAM
26.01.2018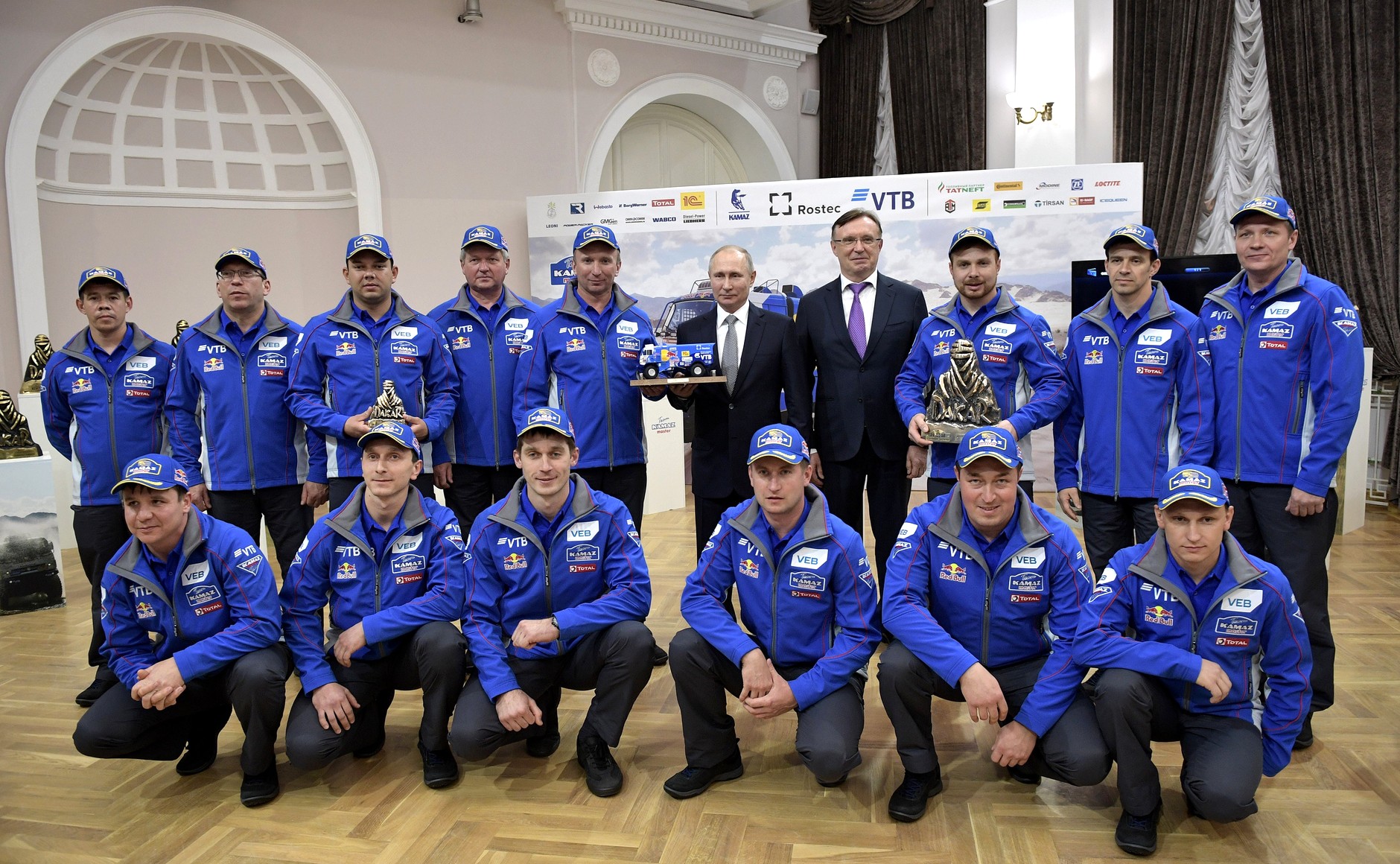 Today in Kazan the President of the Russian Federation Vladimir Putin met with KAMAZ-master Team – winner of rally-marathon Dakar-2018.
The meeting was held within the business trip of Vladimir Putin to Kazan.
Together with Vladimir Putin to the meeting with KAMAZ-master sportsmen came Russian Presidential Envoy to Privolzhsky Federal Disctrict Mikhail Babich, the President of Tatarstan Rustam Minnikhanov, General Director of KAMAZ PTC Sergey Kogogin and others.
Vladimir Putin once again congratulated everyone with the victory and shook hands with racers of KAMAZ-master.
The sportsmen showed to the Russian President a video how the preparation to the rally and the race itself was held. The leader of KAMAZ-master Team Vladimir Chagin gave comments. He particularly mentioned that only half of the crews-contestants reached the finish.
"Everyone understands what it is, that it is a hard work, everyone watches how you contend, - said Vladimir Putin to the sportsmen. – It is just a unique achievement, it can't be said otherwise. Dakar can't be easy. And everyone who understands that, everyone watches how you contend for the first place, transfixed. Apart from the fact that it is a hard work, it is also a dangerous work in the full sense of the word. The fact, that you manage to win 15 times, is just an incredible result, incredible achievement, and this is a team achievement.
Of course, pilots play perhaps the most important role, but still without preparation of vehicles, without maintenance, without teamwork there would not be any result. It tells as about the plant, where the trucks are built, so about preparation level of the whole team.
I wish you all the best. I would like to see your further success. I hope it will be so!"
The sportsmen presented a race model of KAMAZ to Vladimir Putin. In conclusion a group photoshooting was held.
Meeting of Vladimir Putin with KAMAZ-master Team was last in the working agenda of the Russian President in Kazan.
According to materials http://kremlin.ru, http://president.tatarstan.ru
Photo http://kremlin.ru, http://president.tatarstan.ru