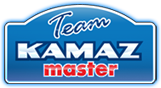 Founded in 1988. The only factory team in Russia successfully representing country in a world motorsport, multiple prizewinner and sixteen-time winner of the Dakar Rally, takes leading position in a world ranking of automobile teams.
Today on the board of the team, totally formed from KAMAZ sportsmen, are 5 World Cup holders, 16 Masters of Sports of international class, 12 Honored Masters of Sports of Russia, 16 Masters of Sports. The uniqueness of the team is that it is the only one among the elite of international rally that develops, designs, assembles racing trucks by itself and performs on them in competitions. For this work the corporate structure of the team includes all necessary functional departments: an engineering bureau, a bureau for the production process organization, a marketing department,Chief Engineer's office, an accountant department and a production shop.
Since its foundation, the team performs only on national vehicles, popularizing Russian motorsport and promoting national vehicles globally. The main principle of the team is that, at designing and constructing a race truck, the team uses components, units and aggregates of manufacturers that are suppliers for the conveyor of the main company. In turn, rallies are a kind of testing ground for KAMAZ PTC for testing technical novelties and engineering developments, which then go into batch production. The main rivals of the team on international competitions are IVECO, MAN, TATRA, RENAULT, GINAF and others.
Participation in the Dakar Rally is since 1990. In 1996, the team won this prestigious race for the first time. Since then, the team participated 29 times in the race and won 17 times in it (including the Dakar 2020). In addition, KAMAZ-master is the eight-time winner of the international Silk Way Rally, the permanent leader of the Russian Rally-Raid Championships. Almost the entire pleiad of KAMAZ drivers has repeatedly received high government awards.
Technologies for creating an off-road race truck bring results not only on the competition tracks, but are also widely used in modernization of batch production of KAMAZ PTC.