Rustam Minnikhanov met with KAMAZ-master Team
29.01.2020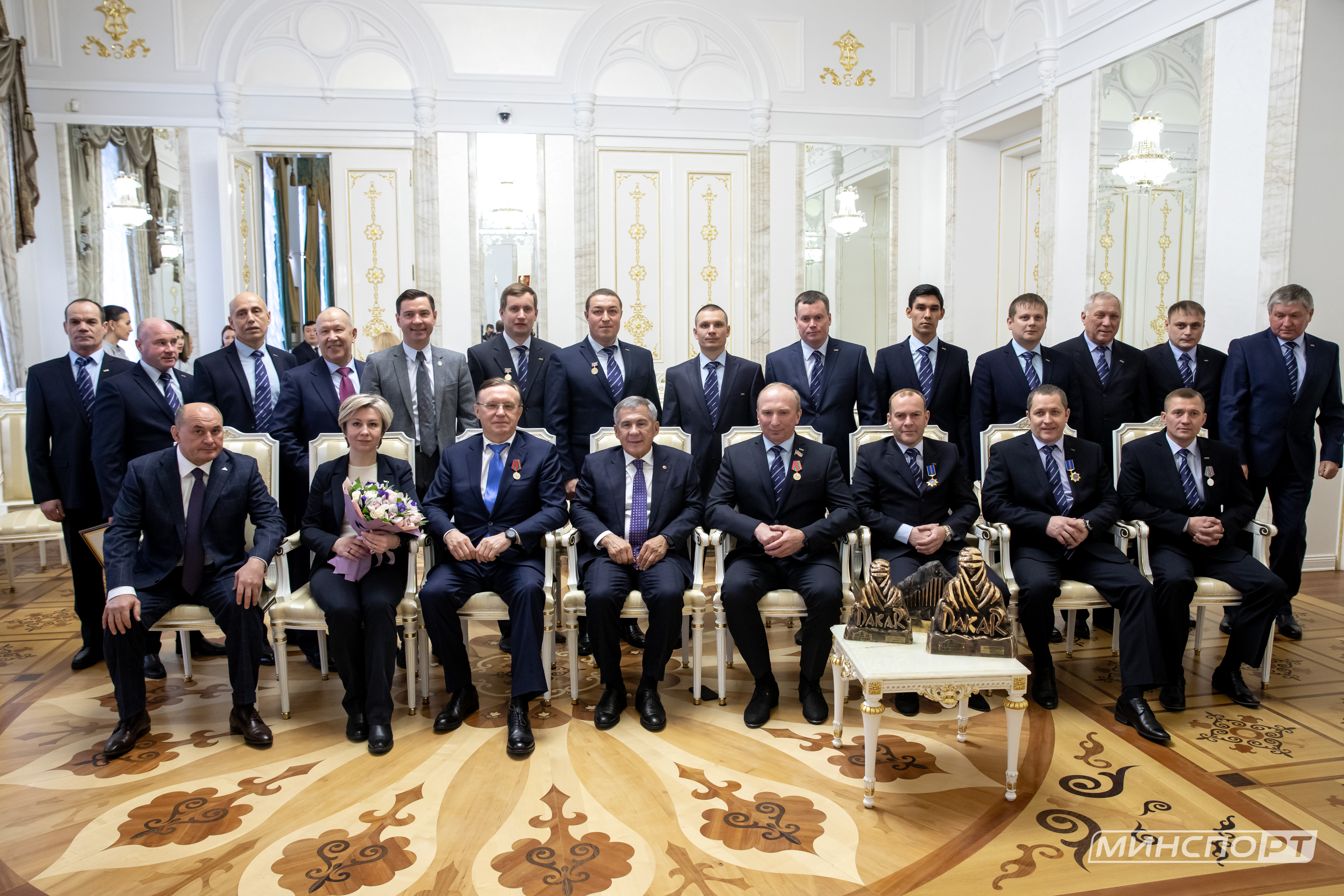 Today in the Kazan Kremlin, the President of Tatarstan Rustam Minnikhanov met with members of KAMAZ-master team on the occasion of victory in the international Dakar Rally 2020. He congratulated the athletes with the first and second places in the truck category and thanked the team for the decent performance.
"Dakar 2020 on the Arabian Peninsula was not an easy test for our crews. The whole republic worried about you, we attentively followed your successes, problems," – said Rustam Minnikhanov. - We worried about you! But it all worked out. Decent results in this race are the professional actions of crew members, skills of technical staff, your mutual support and, of course, hard work."
As a reminder, Andrey Karginov brought gold, honorable second place was taken by Anton Shibalov.
"You are an example for young children engaged in motorsport and all technical kinds of sports," said Rustam Minnikhanov, referring to the athletes. "You glorify the honor of motorsport as in Tatarstan so in Russia."
It is worth noting that this year the race was held in Saudi Arabia for the first time. The team leader Vladimir Chagin shared that the team had been preparing for unexpected routes and unfamiliar landscapes all year, modifying the truck completely.
"For us a year always begins with participation in Dakar and worries about our performance," added Sergey Kogogin during the welcoming speech. - I hope that we will also put this victory into our "box of achievements". Moreover, this is the year of the 100th anniversary of the TASSR. The date is significant, and we are also pleased that everyone was cheering for us and saw us fighting for this victory. For us, these are new markets and new opportunities. And of course, our team will continue to aim only for victories."
During the congratulation ceremony, Rustam Minnikhanov presented athletes and management of the team with state awards of the Republic of Tatarstan and Gratitude of the President of the Republic of Tatarstan.
The Duslyk Order (the Order of Friendship) was awarded to the driver Andrey Karginov and co-driver of the triumphal crew Andrey Mokeev.
Medals "100 years from the TASSR foundation" were awarded to Sergey Kogogin, General Director of KAMAZ PTC, and Vladimir Chagin, team leader, Director of NP "KAMAZ-Avtosport".
The team members also received special recognition, the following awards were presented: the honorary title Merited Transport Worker of the Republic of Tatarstan was awarded to Anton Shibalov, the medal of the Republic of Tatarstan For Valorous Labor was awarded to the automotive service technician Igor Leonov, the honorary title Merited Engineer of the Republic of Tatarstan was awarded to the co-driver Dmitry Nikitin, the Gratitude of the President of the Republic of Tatarstan was awarded to Ivan Tatarinov, Boris Shestialtynov, Evgeny Deshkin, Timur Redzhepov, Ruslan Melkozerov, Ildus Halimov, Musa Gafarov, Julia Kablukova, Dmitry Shumkov.
Photo: https://kamazmaster.ru/gallery/thumbnails/327