The KAMAZ-master team goes to Dakar-2013
21.12.2012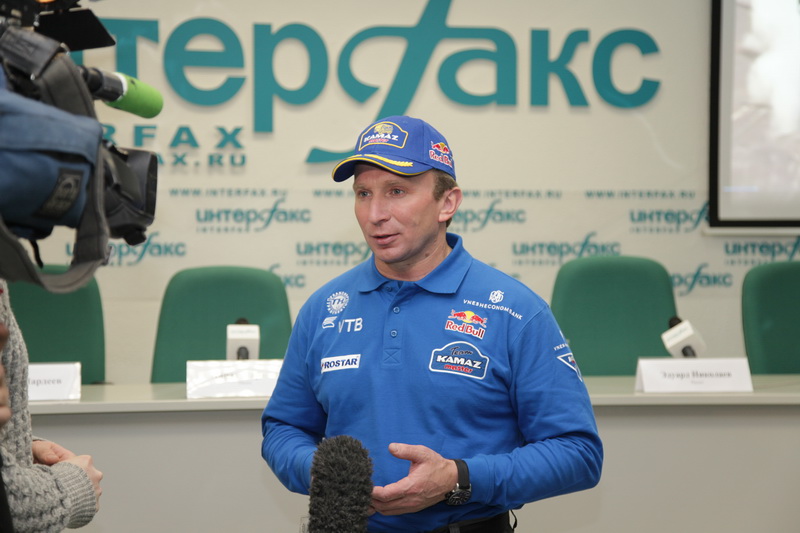 The press-conference of KAMAZ-master team devoted to the forthcoming in January, 2013 Dakar and Africa Eco Race took place in Moscow in Interfax agency on December 19.
For the fifth time Dakar will be organized in South America. Three countries will welcome the rally: Peru, Argentina and Chile. Rally will take place from January 5 to January 20. Desert sandy stages will appear in the first days of rally, right after the start in Lima. The rest day will be organized in Argentinian San Miguel-de-Tucuman. The total length of a route before competitors will reach the finish line in Santiago will be more than 8000 kilometers.
Only a few of pilots of 459 vehicles from 53 countries (it is, by the way, a new record of Dakar) starting in Lima have real chances to get a trophy in the form of Bedouin which will be given on podium in Santiago opposite to the palace La Moneda.
The KAMAZ-master team continues to operate within the strategy of sports crews' rejuvenation. 4 crews will participate in Dakar. In the starting list of trucks category the Russian crews have the following numbers: №501 - E. Nikolaev, S. Savostin, V. Rybakov, №505 - A. Mardeev, A.Belyaev, A. Mirnyy, №510 - A. Karginov-A. Mokeev-I. Devyatkin, №532 - I. Mardeev, V. Mizyukayev, A.Khisamiyev. Besides "KAMAZ-master" will provide technical support to the crew of the Kazakh team of Arthur Ardavichus participating on "KAMAZ" truck (№517).
The crews include experienced co-pilots. The role of young drivers support as usual is assigned to the quick assistance crew of Ilgizar Mardeev.
Dakar, conceived by Thierry Sabin as an exciting adventure for like-minded people, from year to year transformed into a unique rigid event and the arena, where the interests of the largest world car manufacturers and transnational companies-sponsors are faced. Among motorcyclists, hegemony of eternal opponents Cyril Despres and Marc Coma can be challenged by the official Honda team headed by Helder Rodriguez. In jeeps category the team X-Raid triumphators of 2012 in its star cast Stephane Peteransel, Nani Roma, Leonid Novitsky and Krzysztof Holovchik will compete with Giniel de Villiers and Lucio Alvares on Toyota (the third and the fifth places in 2012, respectively). The famous Spaniard Carlos Sainz comes back to the race in a line-up of Qatari Nasser Al-Attiyah.
But, perhaps, the most interesting situation will be created in trucks category. Last year's winners of Dakar the De Roy team should restrain the onslaught of Russians from "KAMAZ-master"! Generally almost all the world drivers top of trucks' category - Gerard De Rooy, Hans Stacey, René Kuipers and Mickey Biazon (all of them from Petronas Team de Rooy Iveco), Ales Loprais (InstaForex Loprais Team), Peter Versluis and Marcel Van Vliet (VEKA MAN), etc. will be presented this year on Dakar Rally.
When answering questions of journalists, the head of the KAMAZ-master team Vladimir Chagin told: "We have a traditionally difficult route and the fight with strong rivals ahead. The responsibility lying on our team is great. A year ago we placed our bets on young members of our team. This year we tried to participate in all events on rally raids. Crews show a sure drive. The special attention was paid to improving of the cars reliability. We concentrated, we united by shared objective: to show the best on Dakar 2013. Our rivals are stronger than ever, but we are determined to stubborn fight. In rally everything is 50 on 50 - a half depends on the car, and a half - from the person, after all it is necessary to prepare the car from a technical side and to prepare yourself morally, psychologically and physically. To overcome all route of "Dakar" is a success, to arrive in the top ten is a big success, and to become a winner - is a great happiness, this can make those who don't do like others. Nontraditional methods of driving - entrances to turns, a maneuver choice". The founder of team Semen Yakubov participated in a press conference.
"I will not go to "Dakar", but in case of need we have communication therefore I will surely help. Young pilots have to gain experience. This is not the only today's goal but primarily we want to achieve it. We talk too much about a victory, but let's tell that for today the only thing in what our guys are behind the competitors – is a lack of such experience as their rivals, and all the rest they have is perfect", - told Yakubov to journalists.
"We are convinced that if we will not win "Dakar" this year, we will do it next year. But our task is that Vladimir Chagin as the head of the team got inside this meat grinder and gain experience there, knowing that everything depends from him. Only then the person will be able to grow and mature therefore I can assure all that I don't go to "Dakar", - he added.
The KAMAZ-master team will also take part in Africa Eco Race – the crew of A. Shibalov, E. Yakovlev and D. Sotnikov went to the race from Naberezhnye Chelny on December 18. AFRICA RACE Rally 2013 starts on December 29 in Morocco. After 11 stages the rally finishes on the Pink Lake in Senegal on January 9.