Dmitry Sotnikov grabbed the lead in the Gold of Kagan
26.04.2021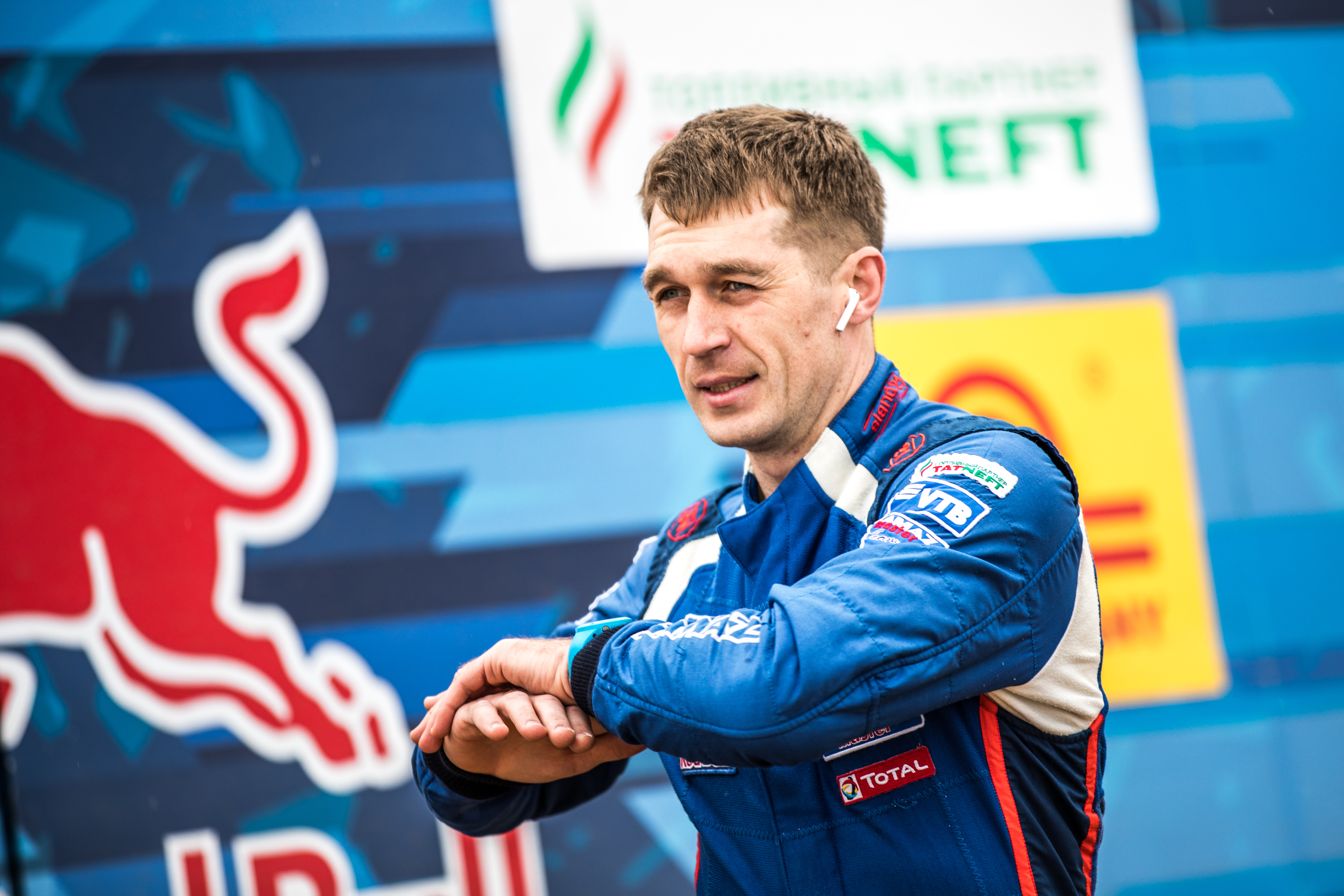 The Big Brother barchans and five more "sandpits" became first sand challenges for contestants of the Gold of Kagan-2021. Short 23-kilometer liaison was followed by 314 "combat" kilometers. Traditionally, bumpy Astrakhan steppe became a test for strength for vehicles and crews. Today well-adjusted bracket influenced the pace much. After Krasnopeschany barchan the route led the race caravan along the new track to the side of "Africa", known from earlier editions of the Gold of Kagan, but a few kilometers before it turned to the side and crossed new large sand area. After it, the route character often changed. Finally, blown with sand steppe roads with highest and dangerous parapets led the racers to the foothills of the Big Brother, which they had to take from the side of the sharp slope.
One of main targets of KAMAZ-master team for this race is training of young crew members. Therefore, apart from the fact that it was a challenging sandy mountain, the Big Brother also gave some secret meaning for this day.
To be fair, heavy Astrakhan tracks were equally relentless as for the rookies so for experienced sportsmen.
On the 14th kilometer of the track Eduard Nikolaev had to stop and wait for evacuation due to engine problems – the same as the crew had faced on the Dakar 2019 – damage of the gas cylinder block joint.
Breakdown of the gear box became the reason for withdrawal of the young pilot, Bogdan Karimov. To this day he fascinated with confident and reliable ride. If that would be possible to agree with the race organizers, he may continue his participation in the event, without pretending for a good position in standings of the truck classification.
As for the rankings after three stages of the race, this day brought changes into it. Driving in a reliable and stable way the current Dakar champion was the first today (04 h 12 min 26 sec), leading in previous days Belarusian Siarhei Viazovich had problems with rear springs, today he is only the third (+06:47). The second place on the stage is taken by Airat Mardeeev. Considering that in his crew there are two rookies at once – co-pilot Albert Arslanov and mechanic Vadim Akhmetov, it should be noted that they found a common ground easily and there is good teamwork, proving that experienced Airat Mardeev is a good tutor.
Siarhei Kuprianov, whose crew continues gas-and-diesel topic, on plump and wet after the snowmelt and therefore difficult to pass sands showed advantages of his torquey engine. Working on the mixture of diesel and methane, engine showed good pull down on low rpm as necessary while driving along uncomfortable and chaotically located Astrakhan dunnets, where critical careens, threatening to overturn a vehicle, damage bracket and necessity to choose trajectory accurately, does not allow to drive at a high speed and high rpm.
QUOTES:
Dmitry Sotnikov, pilot of crew No 300
"We started third. Perhaps, after 10-15 kilometers after the start we saw that E.Nikolaev's crew was at a standstill. He had engine problems. They waved us to go further. After about 30 km we saw that the crew of Vyazovich could not puzzle out with navigation, but our navigator Ruslan Akhmadeev showed his best, we overcame this place easily. At first Viazovich stood behind us, he signaled, we overpassed him, then we drove them by and then went together. After the service area the crew of Vladimir Vasilyev joined us. So the three of us were driving almost to the very finish. Today we won back time well, it will be a heavy struggle tomorrow".
Sergei Kupriyanov, pilot of crew No 307
"Today's special was familiar for us according to previous Gold of Kagan editions. A few fast roads, but mainly "Astrakhan. Two signs", - as my co-pilot says. Two signs – is a mark in the road-book to shows dangerous places on the route.
We stopped in order to saw off blown cross-arm of rear cab bracket. Then we drove in a good way. We saw many crews with breakdowns, accidents. Generally we are satisfied. We reached the finish line well".
Eduard Nikolaev, pilot of crew No 305
"Today was the third day of the race. It was a good beginning, but unfortunately on the 14th km after the start we stopped due to the engine issue – gas joint insertion burst out. The same as it was on the Dakar 2019. It was very sad that we couldn't pass the whole SS, however we are not upset, we will try to fix the truck at night and continue tomorrow, even with penalized time".
RESULTS OF SS 3.
1. Sotnikov D. 4:12:26
2. Mardeev A. + 0:00:11
3. Viazovich S. + 0:06:47
4. Shibalov A. + 0:11:00
5. Murylev V. +0: 13: 20
6. Kupriyanov S. + 0: 45: 24
7. Karginov A. + 1: 21: 20
General classification after the 3rd stage
1. Sotnikov D.7: 58: 18
2. Viazovich S. + 0:03:26
3. Mardeev A. + 0:05:29
4. Shibalov A. + 0:23:33
5. Murylev V. + 0:48:48
6. Kupriyanov S. +1: 47: 43
7. Karginov A. +2: 00: 01