The last day in Atacama
14.01.2015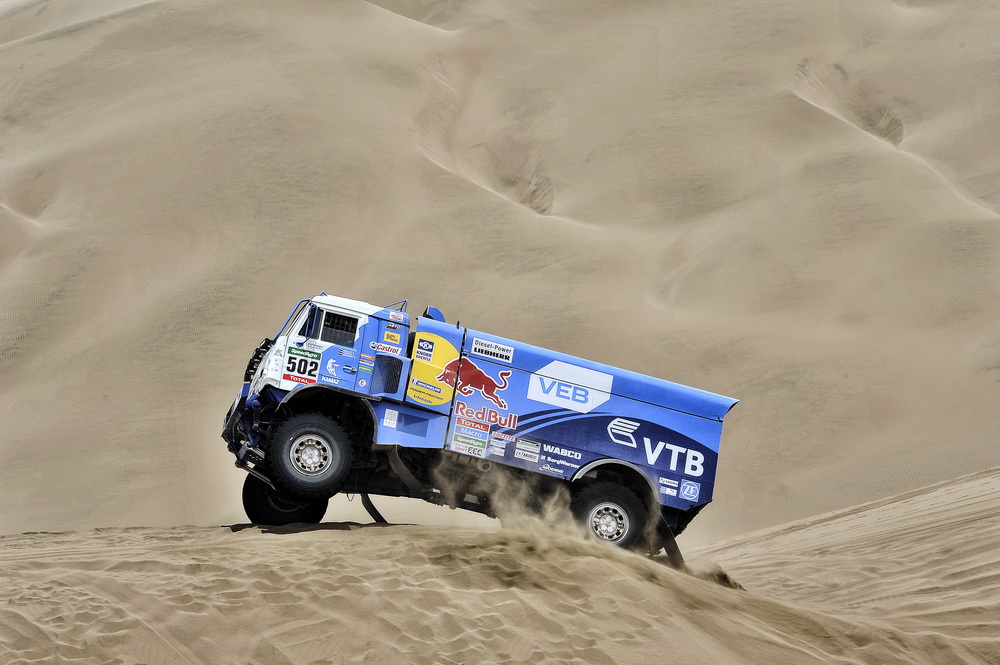 At the stage Iquique – Calama Dakar-2015 took the course from the Pacific Ocean for the southeast towards the miner's city of Calama, one of the Chilean centers for copper production. The overnight stop in Calama located at the altitude of 2300 meters above sea level became the last in the Atacama Desert. Spending the night at such altitude can be considered useful for health of racers in the sense that the next day they will have the high-mountain pass through the Andes to Argentina.
Today's 450 kilometer special stage was very difficult in respect of navigation. The navigator of Eduard Nikolaev's crew Evgeny Yakovlev told that many strayed on the 330th kilometer: "Traces of auto and trucks category were mixed there. There was a feeling that you got to an ant hill. We wanted to leave on cut by the rule of a triangle. It seems to me we didn't reach 200 meters to the following reference. Returned. As a result we lost 10 or 12 minutes. I'm sad of that because Eduard goes at very good pace. It is a pity to lose because of navigation. But today it was really very difficult. We did not have technical problems".
By the way many participants of the present edition of Dakar have many claims to developers of a legend of the route. Some even are going to make a protest. There is a video clip on the internet where on pits designated in the road book by only one sign of danger some cars have had serious accidents. Inaccuracies in a legend, inaccuracy in figures … The matter is that this year organizers of the race entrusted the development the road to a new person, but not to Frenchman Stephane Le Bail famous expert in this subject who had a hand in all known races (including the Silk Way Rally).
The crew 507 of Ayrat Mardeev managed to avoid problems with navigation today: "We reached the finish on two punched wheels. And one was punched practically from start, on the 98th kilometer. In the beginning we had sand. Dunes near Iquique are the same, as in previous days. Now they are well-trodden, and before it was quite difficult to drive on them. Especially to those who went ahead when you need to look for the best ways to pass. Especially on a bright sun when you can't see well their relief. Then the dust zone– fesh-fesh, stony sites, riverbeds began. Inside the cabin it is very dusty. On the first straight zone designated by two signs of danger caught up with Loprais. Thanks to him that he didn't detain us at all, immediately let us pass. Then we saw Andrey Karginov changing the wheel. There was De Rooy ahead. On off road terrain we caught up with him but as soon as the twisting firm road by type of classic rally began he got ahead. Firstly due to the fact that he has before him a clear space and we're going after him in his dust. Secondly, it is necessary to say on the fast road he drives great. On two-valued off road terrain we caught up with him again and went round already when met Eduard Nikolaev's crew who got off-course. Gerard tried to draw away. I "was hooked" on his roof and on his lights in dust. This is the most important: if you managed to approach in dust, saw his roof and lights it is necessary to stick to him tooth and nail. You are guided on the jumping body and flashing periodically brakes. Slightly lag behind - reference points will disappear, and you remain blindly".
Despite a puncture of a wheel and loss of time for its replacement Andrey Karginov arrived on a bivouac in excellent mood: "Everything is great! Excellent SS, we needed 200 kilometers more. Destructive stage, dust, off road terrain, riverbeds. There were places where your fesh-fesh covers you. It was our day!"
The head of the team Vladimir Chagin, also was pleased with the day: "The real marathon stage, our crews liked it. There were both stones, and dust, and dunes. The difficult working day we had punctures of tires. Andrey Karginov changed a wheel. Ayrat Mardeev punctured one wheel on the 98th kilometer and the second for 25 kilometers to the finish. Fortunately air inflating coped with. When the car arrived on the finish the car hissed from all directions. Two crews wasted time on navigation. Eduard Nikolaev about 12 minutes. Dmitry Sotnikov in the beginning about half an hour, and then about 5 minutes. It is natural because his navigator Igor Devyatkin goes his first Dakar as a navigator of the crew. It is difficult to him to orient quickly at once, he accumulates experience and it is good for him. Tomorrow difficult day. SS will pass at the altitude from 3600 to 4500 meters. I don't remember to have such high-mountain sites. At first there will be a liaison of 400 kilometers and then 370 kilometers of a high-speed section. In general cars are in good condition, today we do preventive repair, we change tires".
Now, when three KAMAZ crews head general classification of trucks category of course, that everyone is interested in if there are team prescriptions for the three leaders. Whether they will be fond of fight among themselves?
"It is very important do not lose the three first positions to Buenos Aires. I didn't do any arrangement between pilots in places - who the first, who the second, third... Our team never had such practice. I trust pilots, I trust navigators that they understand the responsibility and "will take" the reached positions to the finish", - commented Vladimir Chagin on this subject.
RESULTS OF THE 9

TH

STAGE OF DAKAR RALLY. TRUCKS CATEGORY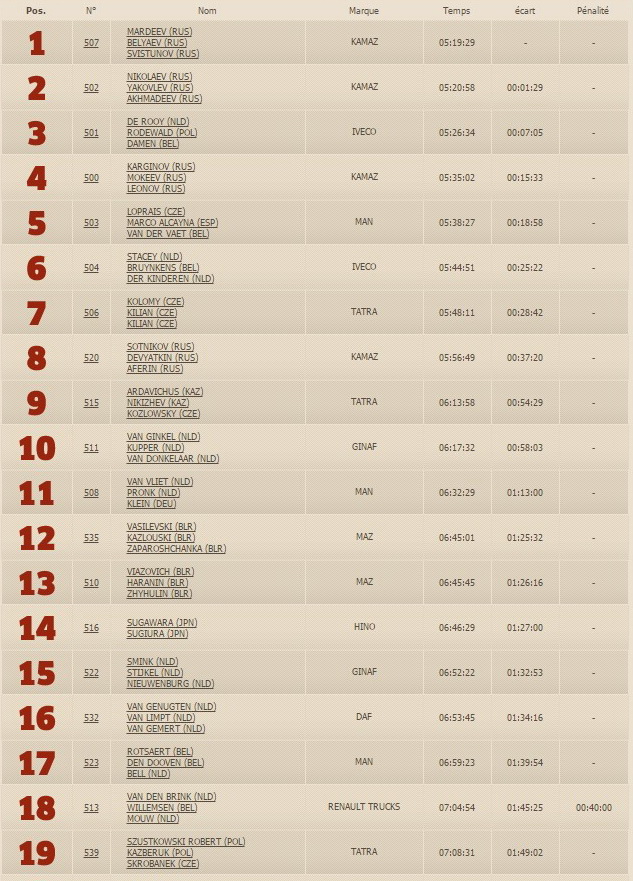 GENERAL CLASSIFICATION AFTER THE 9

TH

STAGE