Africa Race started in Saint-Cyprien
29.12.2012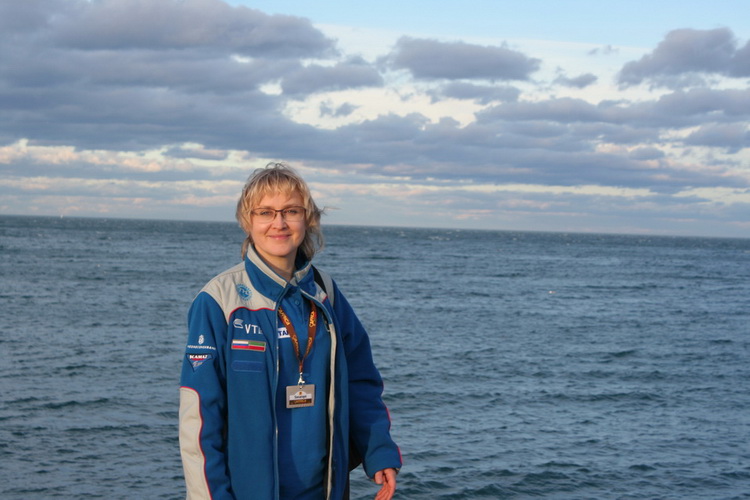 28.12.2012
Today there was a very long day. Perhaps that is always like this when there are many events in a short period of time. Time goes quickly, and it feels like one week passed since yesterday.
In the morning we did not see any global preparations for the checks and the start - there was an air arch at the entrance, and several flags. We did not feel any solemnity as on Silk Way Rally. Oksana Zakharova, as a main team communicator, organized for us early passing of administrative checks and as the documents have been prepared very carefully, we did not have any problem. We had some complexity at the stand of doctors when they asked us to specify what kind of hospital we have to be sent exactly, just in case. We took counsel together and agreed on clinic of Sklifosovsky, because we could not remember anything more. In general, we do not have enough knowledge in medicine, we missed this question.
Then there were the installation of safety equipment, numbers labeling and a big desire to pass technical checks as quickly as possible. However, the organizers asked not to deviate from the schedule, "because all journalists knew that KAMAZ would have checks at 14 o'clock and they would be waiting for us". There were more and more fans. Port area was getting closer. There was no limitation in access – the hall of technical checks was filled with parents and their children, ladies with dogs and serious gentlemen so that riders had to push through all them in order to get to the commissioners. The children were cheerful and sociable, dogs were very various, parents and all people were completely relaxed and imperturbable. As a result of current situation and a good conduct of negotiations, commissioners came to check our cars to the team's deployment place. There also was an interview with Anton Shibalov for TV, a lot of different questions and concerns.
In the heat of the day a fishing boat came to the port, unloaded its catch and greatly pleased us with exotic impressions - octopus pretended to be inexorably puddles, crept out of boxes, were clinging by their suckers and tried to return to the sea.
Our first friend and his assistant Contant brought the given T-shirt and asked all of us to sign on it and write the names in Russian, because it is so cool – be friends with us. And his classmates did not believe him without these compelling evidences of relationships genuineness. He demonstrated so carefully and unobtrusively his helpfulness in everything, used to be with us, that some of us were forgotten, and talked to the boy in Russian. Our friends and ardent fans from Portugal came to see off the team. Semen Yakubov with Olga Yakubova told us many useful words. We greeted Olga Yakubova a happy birthday of tomorrow. Unfortunately, time was running out and we had to take the car out of Parc Fermé (if we compare it with the Silk Way Rally, it is not too much close) and go through the arch to the briefing. No official part was planned, so we simply foolishly did not understand that this is the main first start. But our crew did not disappoint and pleased the audience with an excellent departure and a loud car horn. The briefing lasted for a long time: René Metge thanked the teams and expressed particular pleasure from the participation of "KAMAZ-Master" in the race, told about the long way to the ferry, the filling stations on the first SS, the difficulties and dangers of the first stage, which will be just the day after. And tomorrow, we will have a very long section of 1000 km to the ferry and we have to get up at 2:00, and now it is already 1:03, so that it's time to fold up, and tomorrow I will write everything what Yakubov said about Africa.
Svetlana Klimova