"Gold of Kagan", day two. Visit to "Big Brother"
News

14.04.2018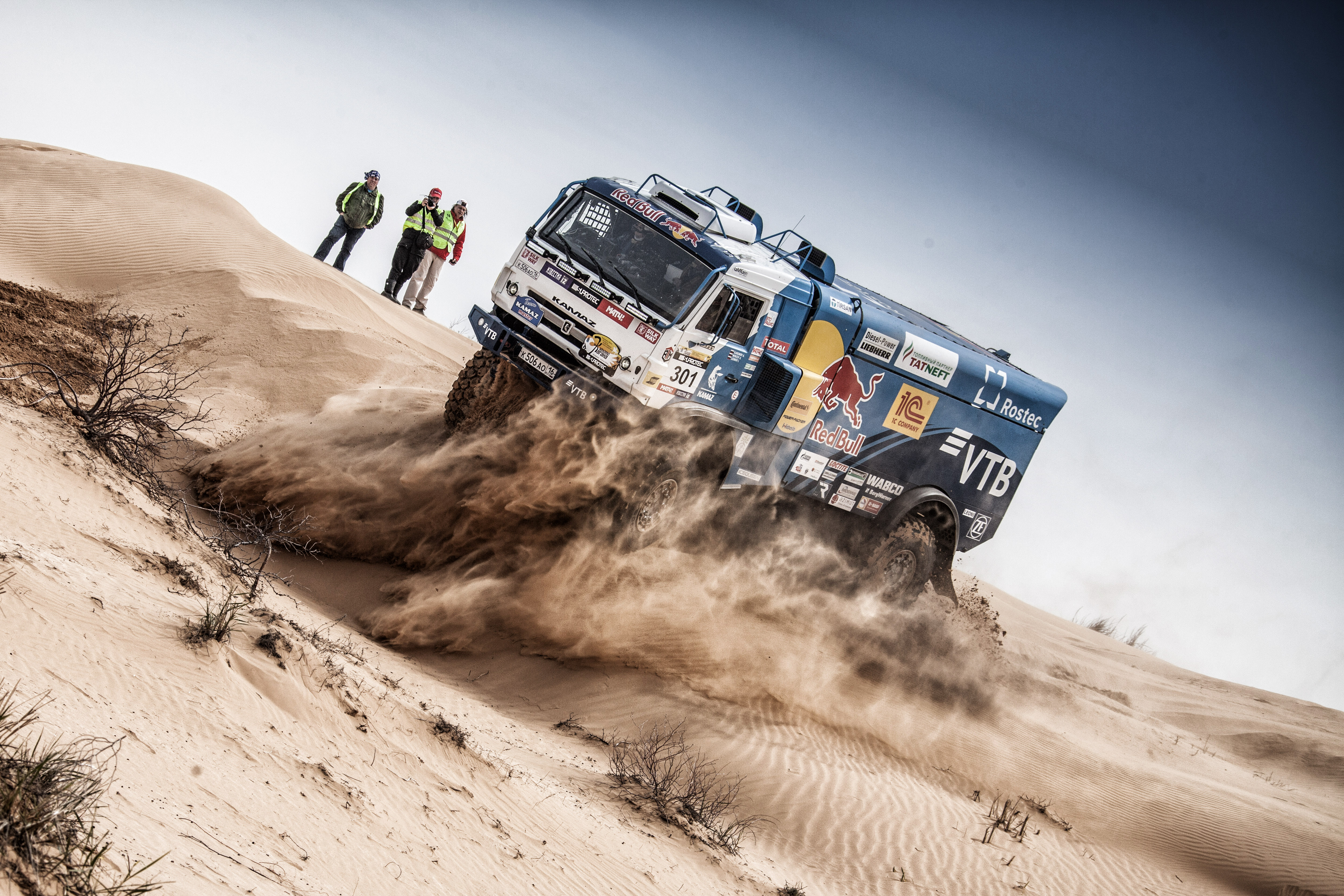 13 April, Astrakhan
Big Brother Barkhan became the first sand challenge for contestants of rally-raid "Gold of Kagan". However, after snow melting, tight sands did not bring much problems to the racers. Coming first to the 130th kilometer of the route, Eduard Nikolaev, took the first navigation point on the sand slope driving straight, without bothering himself to find a comfort trajectory. Very soon other KAMAZ crews coped with the challenge too. Anton Shibalov remarked that thanks to the torquey engine, working on the mix of diesel fuel and methane, the new gas-and-diesel truck of the team confidently at low rpm overcomes chaotic Astrakhan dunes.
Second big sand part after "Big Brother" on 342-kilometer of the special section consisted of African dunes, to reach which the contestants had to overcome fast steppe roads. But some parts of the route were mapped on bumpy hillocks, drive on which is always a tough challenge for trucks, not saying about smaller race vehicles. Due to these landscapes Astrakhan tracks were named "killing". Of course, team fans had concerns how Andrey Karginov would feel, taking part in his first competition after last-year spinal injury. Fortunately, highly experienced Karginov, who can adapt to different surfaces, finished the stage and did not disgrace his teammates in speed. Moreover, he showed the best time in the truck category and after two days of the race took the second position in the standings.
The day also was not easy for navigators: steppe, still unstriped by car tracks after winter, made contestants be more attentive to references of the road book. Especially it was difficult for Evgeny Yakovlev – navigator of Eduard Nikolaev – almost from the very start they outran car of Boris Gadasin and were going first on the track.
As a result Top-10 of the day consisted of trucks, with only four representatives of the car category. The best time was shown by Boris Gadasin (04:21:14), second – Andrey Karginov (+05:57), third – Eduard Nikolaev (+07:07), fourth – Dmitry Sotnikov (+12:54), fifth Anton Shibalov (+20:44). Then in the table were Belorussian crews of Aleksey Vishnevsky and Siarhei Viazovich from MAZsportauto Team 22:38 min and 25:20 min respectively.
In the general standings after two days of the race the crews placed exactly in the same order. On Saturday 14 April will be the final third stage of "Gold of Kagan". The sportsmen will have to overcome 264 km of the route.
Results "SS2 Finish" (First Ten Crews, 341.92 km)
Pos.
No.
Crew
Class
Pos.cl.
Time
Gap
Speed
1
100
GADASIN Boris
PAVLOV Dmitry
T1
1
4:21:14
--
(--)
78.5
2
301
KARGINOV Andrey
MOKEEV Andrey
LEONOV Igor
T4
1
4:27:11
0:05:57
(0:05:57)
76.8
3
300
NIKOLAEV Eduard
YAKOVLEV Evgeny
RYBAKOV Vladimir
T4
2
4:28:21
0:07:07
(0:01:10)
76.4
4
303
SOTNIKOV Dmitry
NIKITIN Dmitry
MUSTAFIN Ilnur
T4
3
4:34:08
0:12:54
(0:05:47)
74.8
5
304
SHIBALOV Anton
KUPRIANOV Aleksandr
SVISTUNOV Dmitry
T4
4
4:41:58
0:20:44
(0:07:50)
72.8
6
305
VISHNEVSKY Alexey
GARANIN Pavel
NEVEROVICH Andrey
T4
5
4:43:52
0:22:38
(0:01:54)
72.3
7
302
VIAZOVICH Siarhei
ZAPOROSCHENKO Anton
ZHIGULIN Andrey
T4
6
4:46:34
0:25:20
(0:02:42)
71.6
8
203
SUSHENTSOV Andrey
SHCHANOV Aleksandr
T1
2
4:55:04
0:33:50
(0:08:30)
69.5
9
202
SAZONOV Yuri
SAKHIMOV Arslan
T1
3
4:58:25
0:37:11
(0:03:21)
68.7
10
227
BERDINSKIKH Alexey
SHUBIN Kirill
T3
1
5:04:58
0:43:44
(0:06:33)
67.3
Standings after "SS2 Finish" (First Ten Crews, 349.22 from 613.64 km)
Pos.
No.
Crew
Class
Pos.cl.
Time
Gap
1
100
GADASIN Boris
PAVLOV Dmitry
T1
1
4:28:54
--
(--)
2
301
KARGINOV Andrey
MOKEEV Andrey
LEONOV Igor
T4
1
4:35:14
0:06:20
(0:06:20)
3
300
NIKOLAEV Eduard
YAKOVLEV Evgeny
RYBAKOV Vladimir
T4
2
4:35:58
0:07:04
(0:00:44)
4
303
SOTNIKOV Dmitry
NIKITIN Dmitry
MUSTAFIN Ilnur
T4
3
4:41:57
0:13:03
(0:05:59)
5
304
SHIBALOV Anton
KUPRIANOV Aleksandr
SVISTUNOV Dmitry
T4
4
4:50:19
0:21:25
(0:08:22)
6
305
VISHNEVSKY Alexey
GARANIN Pavel
NEVEROVICH Andrey
T4
5
4:52:04
0:23:10
(0:01:45)
7
302
VIAZOVICH Siarhei
ZAPOROSCHENKO Anton
ZHIGULIN Andrey
T4
6
4:54:18
0:25:24
(0:02:14)
8
203
SUSHENTSOV Andrey
SHCHANOV Aleksandr
T1
2
5:03:08
0:34:14
(0:08:50)
9
202
SAZONOV Yuri
SAKHIMOV Arslan
T1
3
5:06:00
0:37:06
(0:02:52)
10
227
BERDINSKIKH Alexey
SHUBIN Kirill
T3
1
5:12:19
0:43:25
(0:06:19)

VIDEO
Результаты



этапы и общий зачет