Nikolaev's time on the 7th stage of the Dakar 2020 was corrected
12.01.2020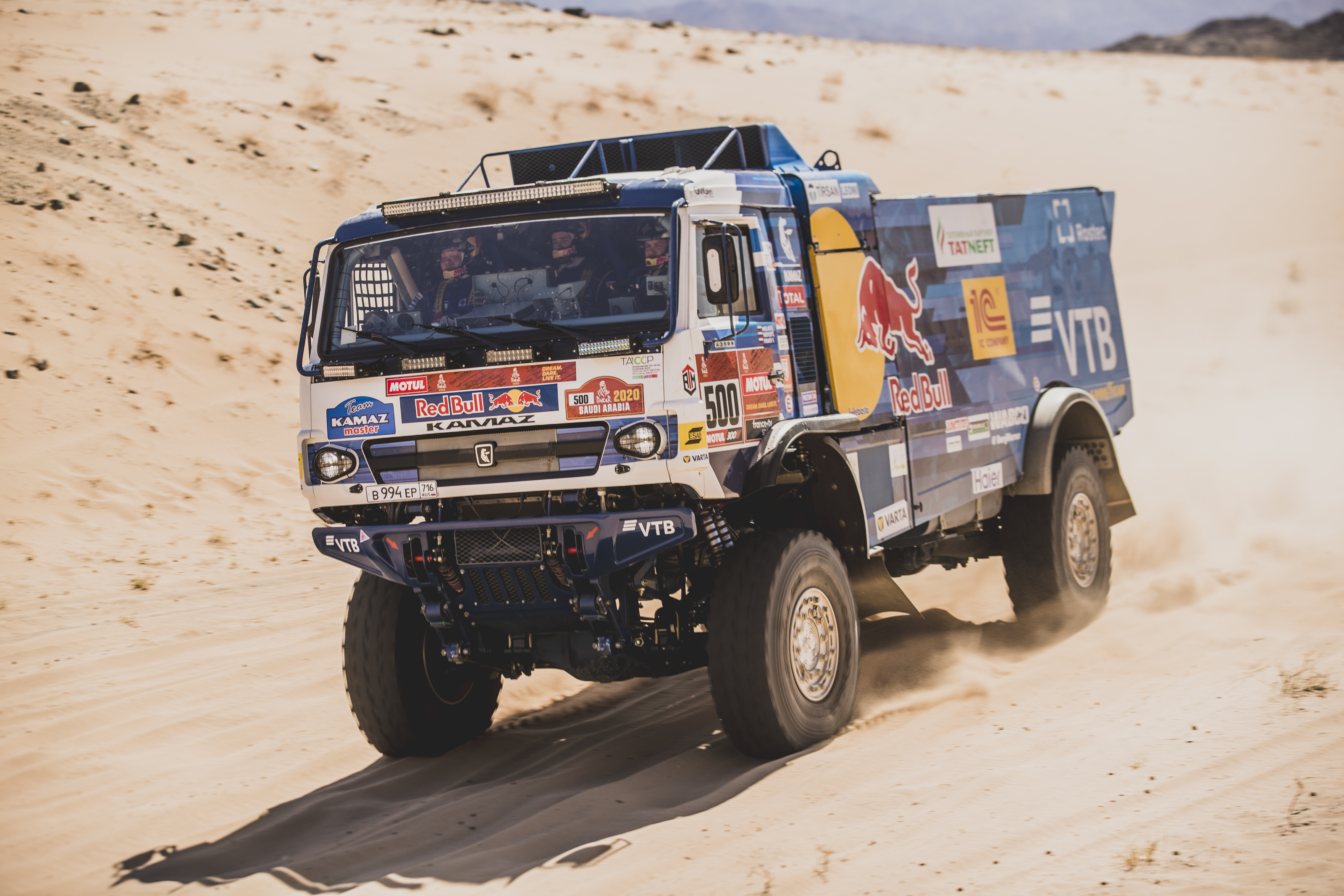 The crew of Eduard Nikolaev, returning to the race as a contestant of a separate classification Dakar Experience, successfully overcame the seventh stage of the Dakar Rally today. After the finish of the Russian athletes, the final protocol contained erroneous data on the time of completing the special stage.
After the approach of KAMAZ-master team, the organizers amended the final statement and indicated the correct time, with which Nikolaev finished Sunday's racing day. Thus, the crew No 500 was the fourth on the seventh stage, behind the winner Andrey Karginov by 5 minutes 19 seconds.
As a reminder, Nikolaev's results are not counted in the general truck classification of the Dakar 2020.
Truck Category. Ranking of the 7th Stage. Top 10
| | | | | | |
| --- | --- | --- | --- | --- | --- |
| Pos. | № | Name | Make | Time | Gap |
| 1 | 511 | Andrey KARGINOV | KAMAZ | 05:01:02 | 00:00:00 |
| 2 | 501 | Dmitry SOTNIKOV | KAMAZ | 05:01:05 | 00:00:03 |
| 3 | 516 | Anton SHIBALOV | KAMAZ | 05:03:07 | 00:02:05 |
| 4 | 500 | Eduard NIKOLAEV | KAMAZ | 05:06:21 | 00:05:19 |
| 5 | 502 | Ales LOPRAIS | PRAGA | 05:07:19 | 00:06:17 |
| 6 | 503 | Siarhei VIAZOVICH | MAZ | 05:10:38 | 00:09:36 |
| 7 | 506 | Martin VAN DEN BRINK | RENAULT | 05:10:55 | 00:09:53 |
| 8 | 522 | Victor WILLEM CORNE VERSTEIJNEN | IVECO | 05:13:47 | 00:12:45 |
| 9 | 521 | Patrice GARROUSTE | TATRA | 05:15:04 | 00:14:02 |
| 10 | 528 | Aliaksei VISHNEUSKI | MAZ | 05:17:29 | 00:16:27 |
Truck Category. General Ranking after the 7th Stage. Top 10
Pos.

№

Name

Make

Time

Gap

1

511

Andrey KARGINOV

KAMAZ

30:06:45

00:00:00

2

516

Anton SHIBALOV

KAMAZ

30:27:57

00:21:12

3

503

Siarhei VIAZOVICH

MAZ

30:53:24

00:46:39

4

502

Ales LOPRAIS

PRAGA

32:02:06

01:55:21

5

504

Martin MACIK

IVECO

32:25:57

02:19:12

6

501

Dmitry SOTNIKOV

KAMAZ

32:35:26

02:28:41

7

505

Janus VAN KASTEREN

IVECO

32:48:45

02:42:00

8

528

Aliaksei VISHNEUSKI

MAZ

33:56:39

03:49:54

9

509

Martin SOLTYS

TATRA

34:21:23

04:14:38

10

512

Teruhito SUGAWARA

HINO

34:24:22

04:17:37

…

500

Eduard NIKOLAEV

KAMAZ

not in general classification